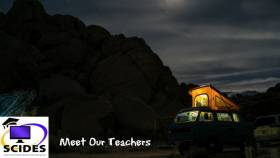 Hard to believe it's already been two months since the school year started! We have several new teachers on our team, and it's time we start introducing them to you. First up - Cory Hart.
1. What's your name and where are you from?
My name is Cory Hart. I was born and raised in southern Alberta before moving out to Victoria where I received my Education Degree. I recently moved from Quesnel, where I had been teaching math and social studies for the past 19 years.
2. How long have you been a teacher at SCIDES?
I started at SCIDES this past August.