Summer Reading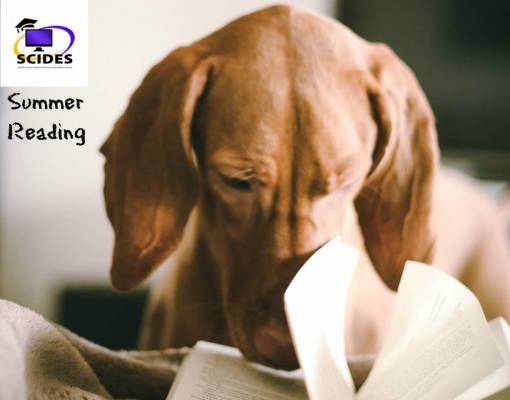 Summer is here and that means vacation time, family time, sleeping in, and relaxing. All great things, but we think that reading needs to be part of this list as well. Research has shown that you lose some of your reading skills if you don't read over the summer, and there's an easy way to keep that from happening: read! We put together some suggestions for you, and we challenge you to read at least three books over the summer break. Share with us on our Facebook page which books you're reading, we'd love to know! Have a great summer - and remember that SCIDES has teachers and support staff available during the summer months. Get in touch at 1.800.663.3536 or email registrar@365.sd58.bc.ca.
Grades K-3
Elephant and Piggie, by Mo Willems
A comic style series revolving around the friendship of Elephant and Piggie.
Hank's Big Day: The Story of a Bug, by David A. Adler
Pill bug Hank and his human pal Amelia spend a marvellous day exploring the outdoors in a sweet story of friendship and imagination.
I am Canada, by Heather Patterson
Illustrated by artists from across this country, this lyrical text describes everything that Canadian kids love to do, from coast to coast to coast.
Grades 4-9
Maze Runner Series, by James Dashner (Grade 6-9)
If you ain't scared, you ain't human. When Thomas wakes up in the lift, the only thing he can remember is his name. He's surrounded by strangers--boys whose memories are also gone.
Fish in a Tree, by Lynda Mullaly Hunt (Grade 4-6)
Ally has been smart enough to fool a lot of smart people. Every time she lands in a new school, she is able to hide her inability to read by creating clever yet disruptive distractions. She is afraid to ask for help; after all, how can you cure dumb? However, her newest teacher Mr. Daniels sees the bright, creative kid underneath the trouble maker. With his help, Ally learns not to be so hard on herself and that dyslexia is nothing to be ashamed of. As her confidence grows, Ally feels free to be herself and the world starts opening up with possibilities. She discovers that there's a lot more to her -- and to everyone -- than a label, and that great minds don't always think alike.
Underground to Canada, by Barbara Smucker (Grade 3-5)
Taken away from her mother by a ruthless slave trader, all Julilly has left is the dream of freedom. Every day that she spends huddled in the slave trader's wagon travelling south or working on the brutal new plantation, she thinks about the land where it is possible to be free, a land she and her friend Liza may reach someday. So when workers from the Underground Railroad offer to help the two girls escape, they are ready. But the slave catchers and their dogs will soon be after them…
The Lost Girls of Camp Forevermore, by Kim Fu (grade 6-8)
For the girls at Forevermore, a sleepaway camp in the Pacific Northwest, days are filled with swimming lessons, friendship bracelets, and camp songs by the fire. Bursting with excitement and nervous energy, they set off on an overnight kayaking trip to a nearby island. But before the night is over, they find themselves stranded, with no adults to help them survive or guide them home.
The Absolutely True Diary of a Part-Time Indian, by Sherman Alexie (grade 5+)
Bestselling author Sherman Alexie tells the story of Junior, a budding cartoonist growing up on the Spokane Indian Reservation. Determined to take his future into his own hands, Junior leaves his troubled school on the rez to attend an all-white farm town high school where the only other Indian is the school mascot. Heartbreaking, funny, and beautifully written, The Absolutely True Diary of a Part-Time Indian, which is based on the author's own experiences, coupled with poignant drawings by Ellen Forney that reflect the character's art, chronicles the contemporary adolescence of one Native American boy as he attempts to break away from the life he was destined to live.
Grades 10-12
The Martian, by Andy Weir
Six days ago, astronaut Mark Watney became one of the first people to walk on Mars. Now, he's sure he'll be the first person to die there. After a dust storm nearly kills him and forces his crew to evacuate while thinking him dead, Mark finds himself stranded and completely alone with no way to even signal Earth that he's alive—and even if he could get word out, his supplies would be gone long before a rescue could arrive.
Catcher in the Rye, by J.D Salinger
The Catcher in the Rye is an all-time classic in coming-of-age literature: an elegy to teenage alienation, capturing the deeply human need for connection and the bewildering sense of loss as we leave childhood behind.
The Glass Castle, by Jeannette Walls
The Glass Castle is a 2005 memoir by Jeannette Walls. The book recounts the unconventional, poverty-stricken upbringing Walls and her siblings had at the hands of their deeply dysfunctional parents.
Coppermine, by Keith Ross Leckie
Part epic adventure, part romance, and part true-crime thriller, Coppermine is a dramatic, compelling, character-driven story set in 1917 in the extremes of Canada's far north and the boom town of Edmonton. The story begins when two missionaries disappear in the remote Arctic region known as the Coppermine. North West Mounted Police officer Jack Creed and Angituk, a young Copper Inuit interpreter, are sent on a year-long odyssey to investigate the fate of the lost priests. On the shores of the Arctic Ocean near the mouth of the Coppermine River, they discover their dismembered remains. Two Inuit hunters are tracked and apprehended, and the four begin an arduous journey to Edmonton, to bring the accused to justice.
The Way Back Home, by Allan Stratton
Zoe Bird is going nowhere fast. She's angry and lonely, and her only true friend is her granny, whose Alzheimer's is worsening. When her parents put Granny in a home, Zoe decides now is the time to break free. She smuggles Granny out and together they hit the tracks on a cross-country trip to find Zoe's long-lost uncle. But there will be some home truths along the way. . .
*all descriptions taken from Google Books*