May is Art Month at SCIDES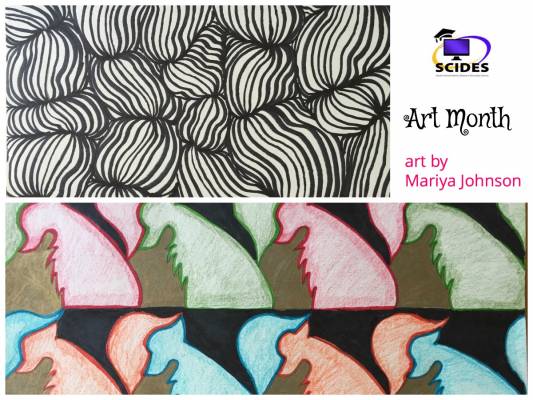 Last month was Earth Science Month at SCIDES, and this month we're getting artsy - May is Art Month! We're talking about a few exciting field trips, BC artists past and present, post-secondary art schools in BC, and Aboriginal art in our province. Of course we also want to let you know that we offer Art Classes at SCIDES, and we're thrilled to feature the art work of SCIDES student Mariya Johnson in our blog picture this month, who's taking Art 12 right now.
Field Trips
We have a few exciting field trips - to 4Cats Studio and Sagebrush Theatre in Kamloops - planned in May (plus one more in June), for our K-9 SCIDES students. To warm up, we're visiting the Sagebrush Theatre on May 4th, for a performance of the Goh Ballet (no pun intended). This will be an exciting outing for our Grade K-7 students!
May 19th will be the first of two visits to 4Cats Studio, for a Beatrix Potter workshop. Students will learn about Beatrix Potter and her artistic style, and will create a painting that they can take home with them. This session is perfect for students K-5. Our second trip on June 9th will appeal to students Grade 3-9, when it's all about Emily Carr. Students will learn about Emily Carr and her artistic style, and will create a painting that they can take home with them. Stay tuned for pictures! 4Cats Studio is BC-grown, and the first studio opened in Victoria in 2005. Their mission is to help you do what you love and make great art while you're at it. There are 62 branches across Canada, as well as one in the USA and 2 in Australia. We're very excited to start making art with 4Cats!
BC Artists Past and Present
BC is home to a diverse variety of artists, and one of the most famous is Emily Carr. She lived from 1871-1945, and her art was heavily inspired by the indigenous peoples of Canada. She was the first Canadian to adopt a modern style of painting, and one of her most famous paintings is called Blunden Harbour and was painted in 1930. She was born in Victoria BC, and her home there is now a heritage site that is open to visitors.
Another well-known BC artist is Len Norris, who was a cartoonist for the Vancouver Sun from 1950-1988. He was heavily influenced by politics and drew cartoons inspired by that. His art was very controversial, as it was heavily biased towards certain political parties. He lived from 1913-1997. One of his most famous cartoons was "Only One A".
A contemporary BC artist is Bill Horne, who was born in Vancouver in 1955, and currently lives in Wells, BC. His love and concern for nature and our environment are reflected in his paintings. His art is displayed across BC in art galleries such as the Two Rivers Gallery in Prince George.
BC Art Schools
British Columbia has a flourishing art community, and a variety of post-secondary options for artists. Most of the schools are concentrated in the Lower Mainland and on Vancouver Island. Visit their websites to find out more about the Emily Carr University of Art, Vancouver Island School of Art, Victoria College of Art, and the Vancouver Art Institute (from their home page, select locations > Vancouver).
Aboriginal Art in BC
Aboriginal art has been around in BC for thousands of years. We are very lucky to live in a province with such rich aboriginal culture and heritage, which is often reflected in the art created by First Nations artists. Art like carvings, totem poles, and paintings of animals like salmon can be found all over the province. To start exploring First Nations are, you can visit the website of Aboriginal Tourism BC, which has a page dedicated to art and where it can be found throughout BC.
If you are thinking about taking an art class, you're in the right place at SCIDES. We offer Art 8 to 12, as well as Photography 9, 11 and 12, Theater 12, and Independent Directed Studies courses. If you have a passion that we do not have a course for, Independent Directed Study is right for you, as it lets you design your own course around your passion!
That's our round-up for Art Month! We'd love to know if you have taken any art classes, and what kind of art you've created. Chime in on our Facebook page, and let's see some pictures! As always, if you would like information about the courses you can take a SCIDES, you can contact us anytime - we're looking forward to connecting with you.
SCIDES ~ creating connections in ALL directions.