December is Language Month at SCIDES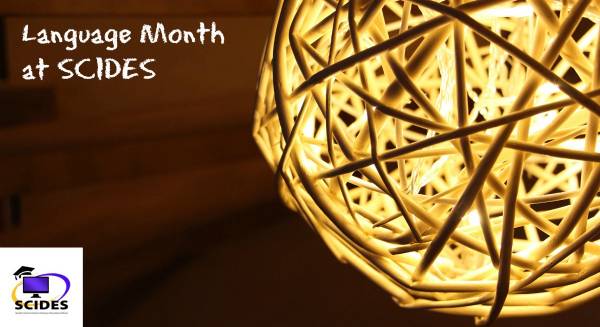 It's the last month of 2016, and we're celebrating Language Month at SCIDES. Did you know there are over 6,900 languages in the world? There are 6,909 to be exact, as documented by the Linguistic Society in 2009. That's close to seven billion people in the world, speaking over 6,900 languages – wow! Some languages are only spoken by a handful of people, while the most-spoken language in the world (by population) is Chinese, with over 1.2 billion native speakers.
At SCIDES we find language fascinating, and we believe that opening yourself up to learning a new language will open you up to the world. That's one reason we're excited to offer the Rosetta Stone program. You can find out more about it here, or contact us if you are interested in enrolling.
Since it's Language Month and Christmas this month, we thought it would be fun to have a look around the world and see how people of different languages and cultures celebrate the season. Let's start with Spanish!
Spanish? Feliz Navidad!
In Spain, Christmas is mostly a religious celebration and tradition. Beginning with the feast of the Immaculate Conception on December 8, the holy season consists of traditional dances, festive homes decorated with oil lamps, and a mandatory visit of the Midnight Mass on Christmas Eve. The Spanish Christmas season runs until January 6th, which marks Epiphany.
German? Frohe Weihnachten!
Christmas starts early in Germany, with the four Sundays of Advent. A traditional Advent wreath holds four candles, one after the other, lit on the four Sundays before Christmas, while the family gets together to enjoy Christmas cookies and stollen. Very popular with the kids are Advent calendars, which usually have 24 little boxes attached to them, each containing a gift for every day from December 1-24. December 24 marks Christmas in Germany, when Santa brings presents in the afternoon while everyone is at church.
Kenyan (Swahili)? Krismasi!
Attending church is also a big part of a Kenyan Christmas, traditionally in new clothes. Church is attended on Christmas Day, often preceded by caroling on Christmas Eve, mostly in urban areas. All gifts and money received during caroling is presented to the church as a gift.
Israeli (Hewbrew)? חנוכה שמח (Hanukkah)!
In Israel, people celebrate Hanukkah (also known as Chanukah), the eight-day festival of lights. The season starts either in November or December, always on the 25th of Kislev in the Hebrew calendar. Hanukkah, which means "dedication" in Hebrew, is celebrated with the lighting of the menorah, traditional foods, games, and gifts.
Japanese? メリークリスマ!
Christmas in Japan is more of a celebration of love and happiness, rather than religion. Christmas Eve is thought to be a romantic day, with couples exchanging presents and spending the day together. It is more celebrated than Christmas Day, and almost compares to Valentine's Day in the US and Canada.
That's our round-up! Of course we want to know: how do you celebrate Christmas? Leave a comment below, or chime in on our Facebook page (and we love seeing pictures!).
We hope you have a fantastic holiday season, and spend it with people you love. SCIDES is closed from December 17-January 2 for Winter break. We look forward to seeing you again in the New Year, and connecting with you on social media in the meanwhile!